Plantonic Cafe' is 100% plant based offering fresh made juices, smoothies and foods using only organic ingredients. Everything on our menu is dairy and gluten free. Our mission is to provide a safe and comfortable environment for those who suffer from food allergies or sensitivities and to help everyone improve their health to live the best life possible!
Open inside Lotus Be Well!
We are located inside Lotus Be Well on the lower level.
Please enter at the rear of the building off Johnson Street where there is plenty of parking.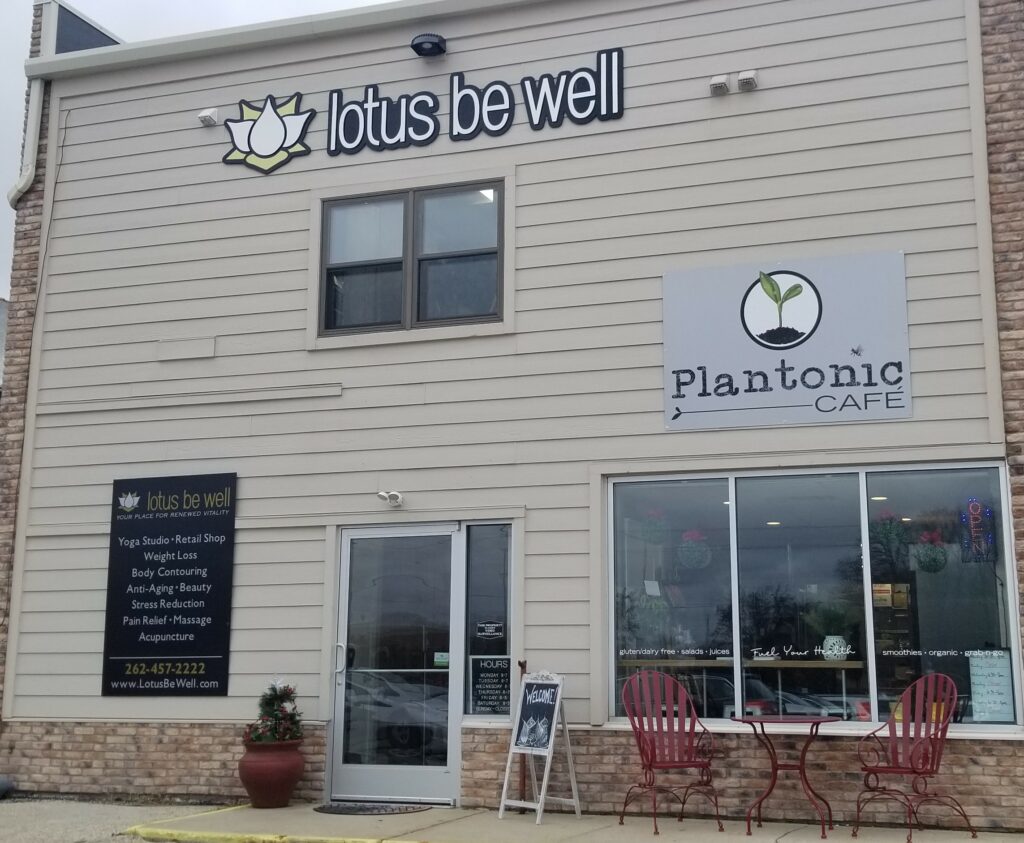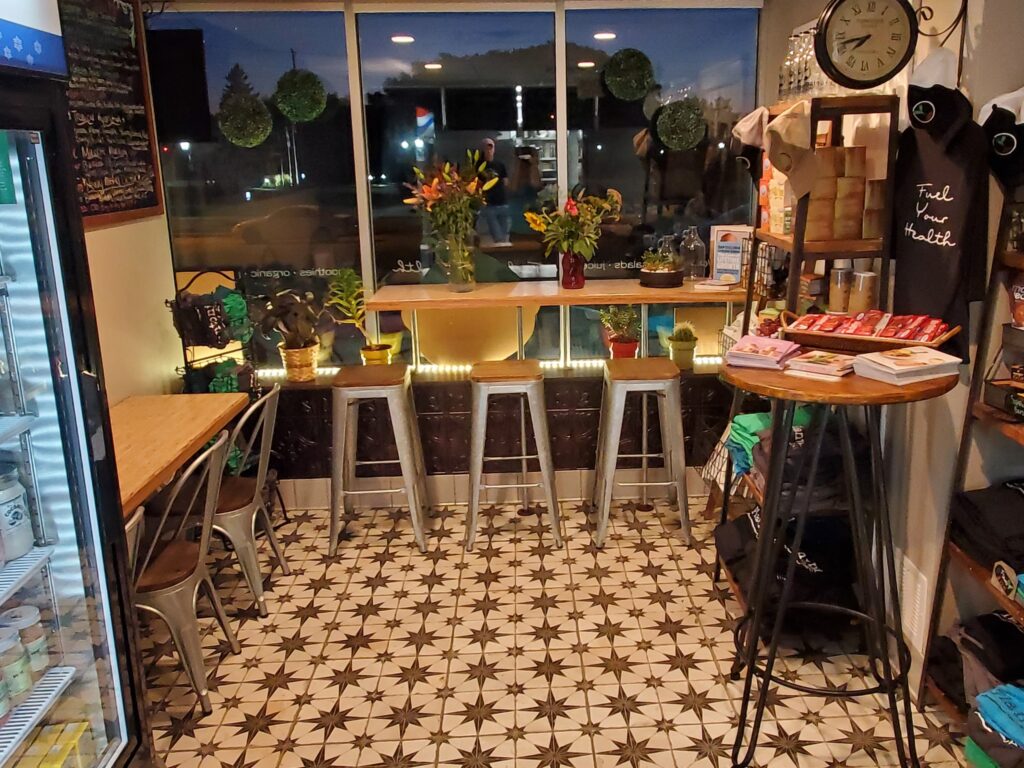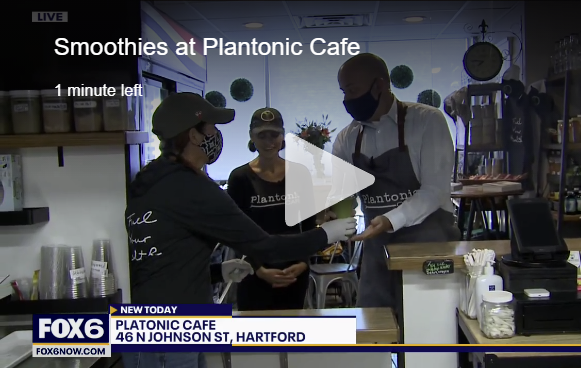 Juices
Our fresh juice is made to order or bottled using only organic produce. Flavors include Blooming Vital, Celery, Hydration Tonic, Immune Boost, Plantonic Tonic, Sunrise, Zesty Red, and our most popular Ultimate Wellness Tonic. Sizes include 16 oz. bottles and 32 or 64 oz. glass growlers. Bottled juices are available in our cooler on the main floor of Lotus Be Well when the cafe' is closed.
Smoothies
Our 20 oz. Smoothies are made to order using frozen organic fruit, frozen organic greens, organic almond milk, organic oat milk, organic coconut water or organic orange juice. We use only the highest quality organic plant based powders from Your Super. We also use organic chia seeds, hemp seeds, bee pollen and aloe. All recipes are packed with nutrition so there's no need for expensive add-ons but we're always willing to customize to meet your needs. Absolutely no artificial colors or sweeteners! Our current choices include the Berry Beauty, Cherry Mocha, Chocolate Mint, Chocolate PB&J, Electrolyte Dense, Green Power Protein, Heavy Metal Detox, Muscle Monkey, Pumpkin Pie, Supergreen Mint, White Coconut and our latest creation the Winter Elixir!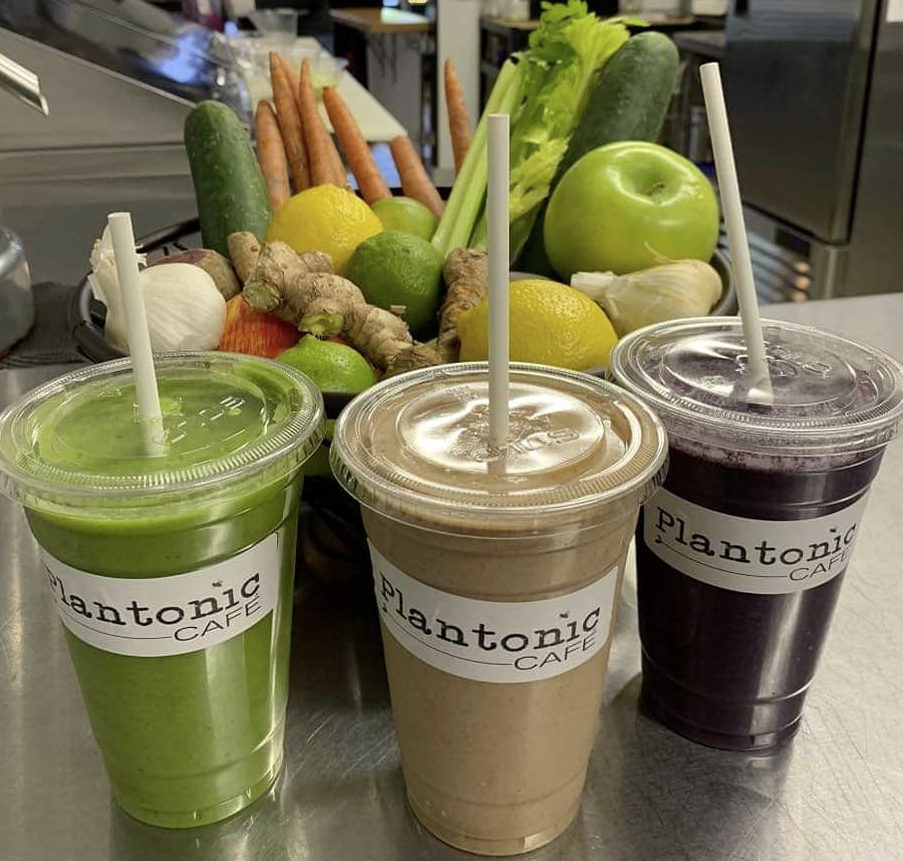 Smoothie Bowls
We have a vast array of smoothie bowls to cure your craving for a sweet treat that not only tastes amazing but is also full of fresh organic ingredients and super foods. Most are so filling you'll need someone to share with you. Our current offerings include the Antioxidant Acai, Banana Split Nice Cream, Blueberry Mint(pictured below), Carrot Cake, Chocolate PB&J, Dark Chocolate Cherry, Dragon Balancer, Green Apple Pie, Lemon Mango Cashew Cheesecake and our latest creation the Green Goddess Protein bowl.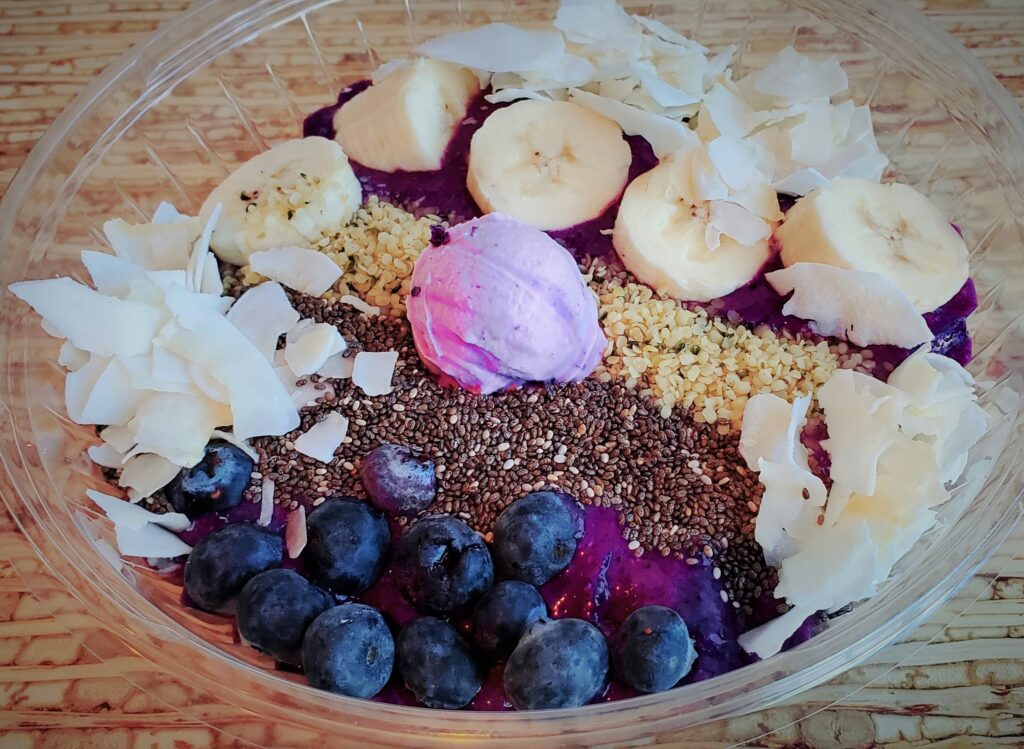 Soups
If you're looking for a healthy, filling and nutritious lunch or dinner option try our amazing soups made from all organic ingredients that are always dairy and gluten free. We are currently offering a rotation of Butternut Squash, Cauliflower Cashew Stew, Carrot Coconut Bean, Creamy Herbed Zucchini, Herbed Creamy Mushroom, Potato Curry Stew, Sweet Potato Lentil Curry, Tomato Lentil Curry, Thai Pumpkin and Three Bean Chili with more to come. Stock up once a week and freeze them for a healthy meal during your hectic work schedule!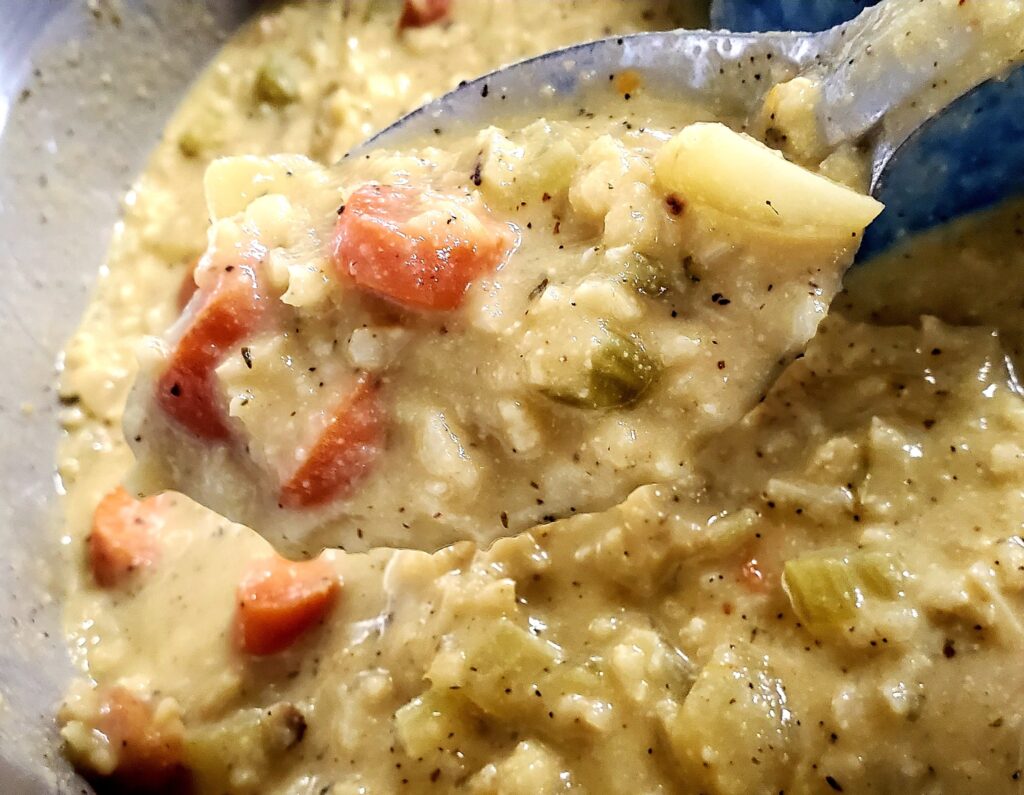 Vegetable Salads
Our vegetable salads are made from…you guessed it! Only organic and fresh ingredients. We normally have two choices available at all times. Some of our creations have been Cauliflower Potato, Curry Broccoli, Dill Cucumber and Curried Cabbage.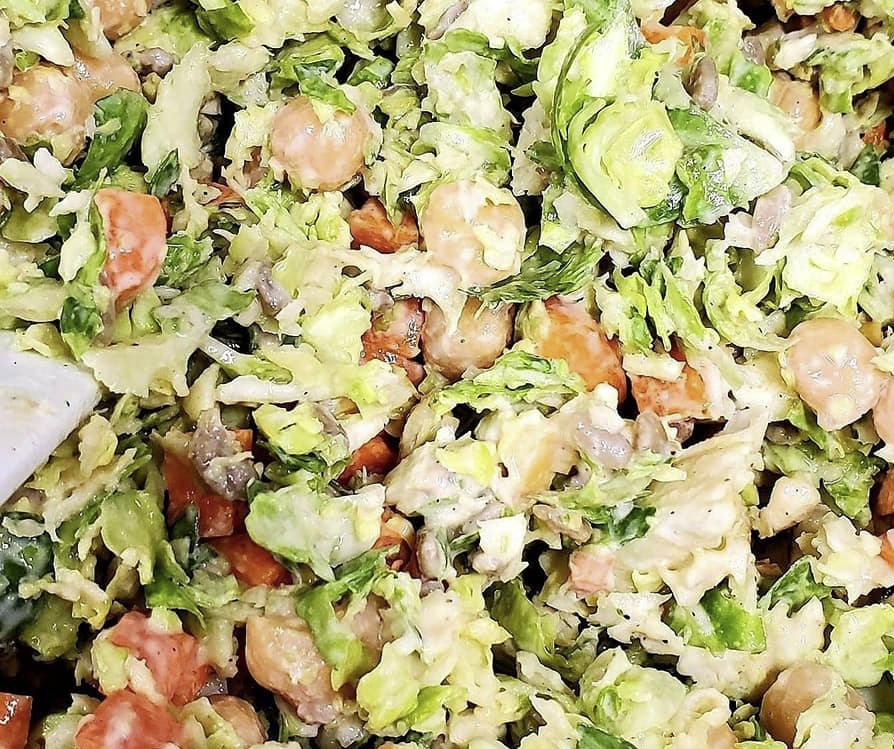 Mixed Greens Salads
We also offer a variety of mixed green salads topped with fresh organic vegetables, nuts and seeds that include gluten and dairy free dressing.
Super Food Drinks and Desserts
We have a wide array of super food laden hot and iced drinks including our Plantonic Sip Coffee, Matcha Lattes, Four Sigmatic Coffees, Bio Coffee and Moringa Hot Chocolate. We also have a diverse selection of desserts that are 100% dairy and gluten free! Some of our creations have been Blueberry Cheesecake, Carrot Cake, Double Dark Chocolate Cheesecake, Pumpkin Pie Cheesecake, Peanut Butter Cup Pie and Strawberry Cheesecake. Please check out our Facebook page for the most up to date items.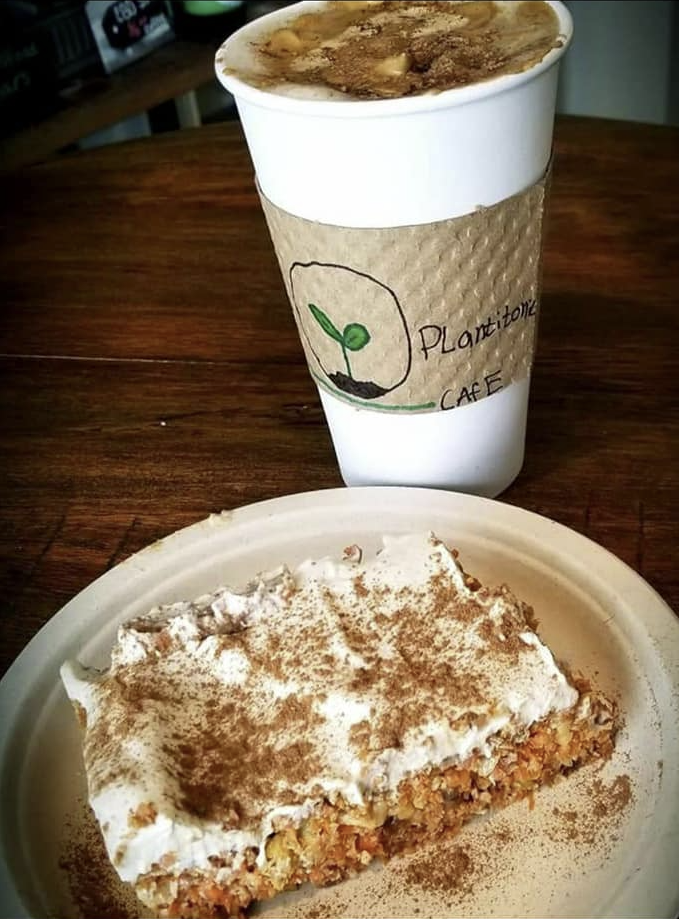 Bio Coffee and Moringa Hot Chocolate are also available for purchase by the box if you prefer to enjoy in the comfort of your own home.